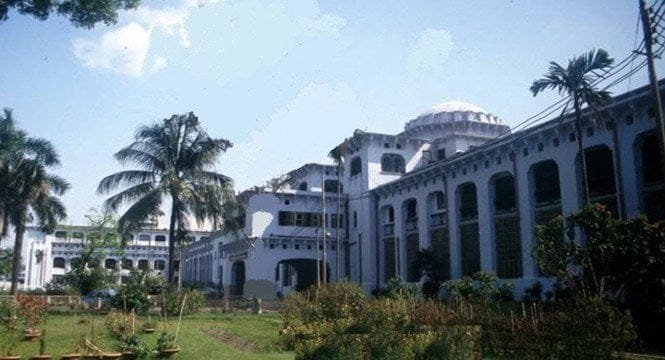 Dhaka Medical College and Hospital (DMCH) is a medical college and hospital located in Dhaka, the capital city of Bangladesh. It is situated in the Bakshibazar area of the city, close to the University of Dhaka and the Bangladesh University of Engineering and Technology.
Every year, after passing their Higher Secondary School Certificate examinations, nearly 65,000 applicants from all over the country sit for the medical college admission test. The top 19 students get the opportunity to study at Dhaka Medical College. About 20 foreign students are admitted according to merit. Each entering Class of the college, which is known as a "Batch", is designated by the prefix 'K' followed by the batch number. Every batch also has a special name: for example: Uttal K-69, Suprovo K-70, Onirban K-71, Badhvanga K-72, etc
OFFICIAL REPRESENTATIVE STATUS
JAY EXCEL MEDIC is the official university representative for MALAYSIA & ASIA PACIFIC REGION.
PROGRAMME OFFERED
| UNDERGRADUATE | MEDIUM | DURATION | ENTRY REQUIREMENT | INTAKE |
| --- | --- | --- | --- | --- |
| Medicine | English | 5½ years | Entry Requirement | January |
PROGRAMME RECOGNISED BY
Jabatan Perkhidmatan Awam

Malaysian Medical Council

MORE DETAILS
| | |
| --- | --- |
| Country | Bangladesh |
| Type | Public University |
| Number of Malaysian Student | More than 1000 |
| Entry Requirement | Foundation Course / STPM / Matriculation / A-Level / equivalent. |
| Entrance Exam | NO |
| Month of Examination | N/A |
| Class Commencement | January |
| Hostel Provide By | University |
| Photographs | View Photos |